LIVE Updates: Supertech Noida Twin Towers now Rest In Pieces – Done and dusted
The Supertech Noida Twin Towers in Sector 93A, Noida were demolished in a matter of seconds today in a breathtaking display of modern engineering. A massive cloud of dust was released as the illegally constructed structures were reduced to rubble using the implosion technique, sparking air pollution concerns. Once authorities give the all-clear, the 5,000-odd residents of two adjacent housing societies will begin returning to their homes. Stay with us as we bring you the latest updates on the aftermath of the Supertech Twin Towers' demolition.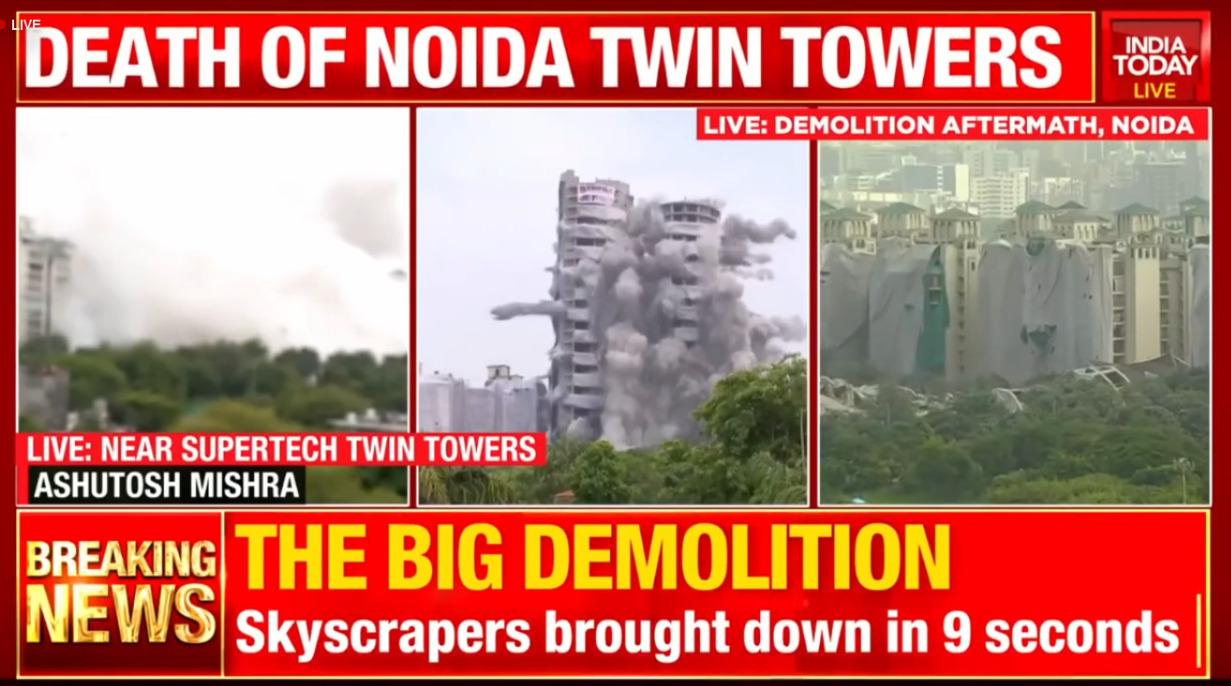 Read Also: A Complete Information About Legal Drinking Age Across Indian States
WATCH: Moment when Noida Supertech Twin Towers were reduced to rubble
Noida Twin Towers demolished.#TwinTower #Demolition @ShivAroor #Noida pic.twitter.com/V45mcpw6L7

Recent Posts: — IndiaToday (@IndiaToday) August 28, 2022
Supertech Twin Towers Noida come crashing down
The detonation button was pressed, the explosives were triggered and the 100-metre-tall Supertech Twin Towers collapsed like a house of cards. As cheers erupted, a huge cloud of dust has engulfed the demolition site.
Also Read Here:
Why Noida Supertech Twin Towers Have Been Demolished? Know Details
The Supertech Twin Towers were demolished on Sunday (August 28). The demolition of the Emerald Court project in Noida is leading to a loss of about Rs 1,000 crore to developer Supertech. It also took nearly Rs 20 crore to raze the building. So, why have the buildings been razed? Details:
The twin towers (namely Apex and Ceyane) are located at Sector 93A in Noida. One of the buildings has an altitude of 103 metres, while another is around 97-metre tall. For the demolition, about 3,700 kg of explosives were brought from Palwal (Haryana) to be used. It was a mix of dynamite, emulsions and plastic explosives.